J.E. Pistons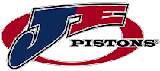 High Performance
Street Strip Race
RPM - RON'S PRECISION MACHINE, INC.
69 E. 580 N.
Santaquin, Utah 84655
1-801-754-5338 or Toll free 1-866-700-5877
e-mail
Order Form
Engine Rebuild Kit and Parts Online Catalog
Ford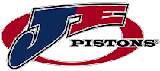 Prices are for one piston, pin, and locks (ea.)

351 N-Head Flat Top (no valve pockets)

Lateral gas ports.
Precision CNC machined ring grooves, accepts 1.2 x 1.2, 3mm rings
Light weight .927 x 2.250 JE wrist pins included.
Forced pin oiler, with annular oil reservoir.
Pin fitting and .073 sire locks included.
Accumulator grooves and contact reduction.
Flat top, no valve pockets.
C/H Figured for 9.180 block height

Bore Size
Stroke
Rod
Length
Comp
Height
Compression Ratio
Dome
Vol.
Gram
Weight
Foot
Notes
Part
Number
Price ea.
$
4.030
3.500
6.200
1.230
Flat Top
FT
337
-
170857
96.80
4.030
3.500
6.200
1.250
Flat Top
FT
343
-
173677
96.80
HOME