J.E. Pistons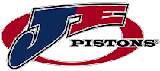 High Performance
Street Strip Race
RPM - RON'S PRECISION MACHINE, INC.
69 E. 580 N.
Santaquin, Utah 84655
1-801-754-5338 or Toll free 1-866-700-5877
e-mail
Order Form
Engine Rebuild Kit and Parts Online Catalog
Ford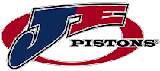 Prices are for one piston, pin, and locks (ea.)

460 Ford Flat Top / Inverted Dome

Compatible with most aftermarket heads.
Valve reliefs will accommodate oversized valves and high lift cams.
JE H. D. wrist pins included (see footnotes).
Pin fitting and double spiral locks included.
Precision CNC machined ring grooves, accepts 1/16, 1/16, 3/16 rings.
C/H figured for 10.300 block height.
Bore Size
Stroke
Rod
Length
Comp
Height
Compression Ratio 72cc 74cc 94cc
Dome
Vol.
Gram
Weight
Foot
Notes
Part
Number
Price ea.
$
4.390
3.850
6.605
1.770
12.1
11.8
9.8
-3
641
F
131685
84.15
STD Bore 4.360 Stroker 460 Flat Tops
4.390
4.300
6.800
1.350
13.4
13.1
10.9
-3
565
E
170877
84.15
4.440
4.300
6.800
1.350
13.7
13.4
11.1
-3
591
E
170878
84.15
4.390
4.300
6.605
1.545
13.4
13.1
10.9
-3
600
F
170875
84.15
4.440
4.300
6.605
1.545
13.7
13.4
11.1
-3
626
F
170876
84.15
STD Bore 4.630 Stroker 460 Inverted Domes (dished)
4.390
4.300
6.800
1.350
9.8
9.6
8.4
-39
560
E
170879
88.55
4.440
4.300
6.800
1.350
10.0
9.8
8.6
-39
580
E
170880
88.55
4.390
4.300
6.605
1.545
9.8
9.6
8.4
-39
594
F
170881
88.55
4.440
4.300
6.605
1.545
10.0
9.8
8.6
-39
615
F
170882
88.55

E=Indicates .990 Pin Diameter, F=Indicates 1.040 Pin Diameter

HOME