J.E. Pistons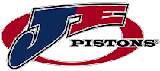 High Performance
Street Strip Race
RPM - RON'S PRECISION MACHINE, INC.
69 E. 580 N.
Santaquin, Utah 84655
1-801-754-5338 or Toll free 1-866-700-5877
e-mail
Order Form
Engine Rebuild Kit and Parts Online Catalog
Ford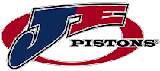 Prices are for one piston, pin, and locks (ea.)

302 Flat Top

Compatible with Nitrous and Turbos
Accommodates larger valves and high lift cams.
JE H. D. wrist pins included (see footnotes).
Pin fitting and double spiral locks included.
Precision CNC machined ring grooves, accepts 1/16, 1/16, 3/16 rings.
302 C/H listings figured for 8.200 block height.
351W C/H listings figured for 9.480 Block height.
302 C/H Figured for 8.200 Block Height

Bore Size
Stroke
Rod
Length
Comp
Height
Compression Ratio 56cc 60cc 64cc
Dome
Vol.
Gram
Weight
Foot
Notes
Part
Number
Price ea.
$
STD Bore 4.000 302 Series
4.030
3.000
5.090
1.600
10.0
9.5
9.1
-5
521
D
170845
79.75
4.040
3.000
5.090
1.600
10.0
9.5
9.1
-5
537
D
170846
79.75
STD Bore 4.000 302 Stroker
4.020
3.250
5.400
1.175
10.7
10.1
9.7
-5
439
B,C
170854
85.25
4.030
3.250
5.400
1.175
10.7
10.1
9.7
-5
451
B,C
170855
85.25
4.040
3.250
5.400
1.175
10.7
10.1
9.7
-5
454
B,C
170856
85.25
4.030
3.400
5.400
1.100
11.1
10.1
10.0
-5
418
B,C
188703
85.25
STD Bore 4.000 Twisted Series
4.030
3.250
5.400
1.175
10.7
10.1
9.7
-5
414
B,C
194950
85.25
4.030
3.400
5.400
1.100
11.1
10.1
10.0
-5
418
B,C
194949
85.25
351W C/H Figured for 9.480 Block Height

Bore Size
Stroke
Rod
Length
Comp
Height
Compression Ratio 58cc 64cc 76cc
Dome
Vol.
Gram
Weight
Foot
Notes
Part
Number
Price ea.
$
STD Bore 4.000 351 Series
4.030
3.500
5.956
1.774
11.1
10.3
9.1
-5
-
D
170852
79.75
4.040
3.500
5.956
1.774
11.1
10.3
9.1
-5
-
D
170853
79.75
STD Bore 4.000 Stroker
4.030
3.850
5.956
1.600
12.1
11.3
10.0
-5
-
D
170845
79.75
4.040
3.850
5.956
1.600
12.1
11.3
10.0
-5
-
D
170846
79.75
4.030
3.850
6.200
1.355
12.1
11.3
10.0
-5
486
C
170233
79.75
4.030
4.000
6.200
1.280
12.5
11.9
11.3
-5
474
C
170232
79.75
C/H figured for 9.200 Motor Sport block

Bore Size
Stroke
Rod
Length
Comp
Height
Compression Ratio 58cc 64cc 76cc
Dome
Vol.
Gram
Weight
Foot
Notes
Part
Number
Price ea.
$
STD Bore 4.000 351 Series
4.020
3.500
6.200
1.250
11.5
10.9
10.4
-5
450
C
188705
79.75
4.030
3.500
6.200
1.250
11.5
10.9
10.4
-5
450
C
188704
79.75

B=indicates oil rail support is included C=Indicates .927 pin diameter D=Indicates .912 pin diameter

HOME