J.E. Pistons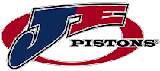 High Performance
Street Strip Race
RPM - RON'S PRECISION MACHINE, INC.
69 E. 580 N.
Santaquin, Utah 84655
1-801-754-5338 or Toll free 1-866-700-5877
e-mail
Order Form
Engine Rebuild Kit and Parts Online Catalog
Chevrolet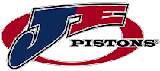 Big Block
427/454/502 Big Block Chevy Pistons
Open/Closed Chamber Flat Top

Compatible with turbo, nitrous and superchargers.
Compatible with angle milled heads.
Valve reliefs will accommodate oversized valves and high lift cams.
JE .990 x 2.930 H.D. wrist pins (174 grams).
Pin fitting and double spiral locks included.
Precision CNC machined ring grooves, accepts 1/16, 1/16, 3/16 rings.
C.H figured for 9.800 block height with -.020 deck (10.200 block, use +.400 longer than rod length listed).
Call toll free to order at 1-866-700-5877 or e-mail or use the Order Form for questions and to check stock.
Prices are listed below - prices are for one - piston, pin, & locks (ea.)

Bore Size
Stroke
Rod
Length
Comp
Height

Compression Ratio
110cc 118cc 124cc

Dome
Vol.
Gram
Weight
Foot
Notes
Part
Number
Required
Ring Set
4.310
4.000
6.535
1.245
8.6
8.3
8.0
-3
588
B
131381
J100F8-4310-5
4.500
4.000
6.535
1.245
9.3
8.8
8.5
-3
623
B
131382
J100F8-4500-5
4.560
4.000
6.535
1.245
9.3
8.8
8.5
-3
657
B
131384
J100F8-4560-5
4.600
4.000
6.535
1.245
9.6
9.2
8.9
-3
650
B
131385
J100F8-4600-5
4.310
4.250
6.385
1.270
9.1
8.8
8.4
-3
590
B
131386
J100F8-4310-5
4.500
4.250
6.385
1.270
9.8
9.4
9.0
-3
628
B
131387
J100F8-4500-5
4.530
4.250
6.385
1.270
9.8
9.4
9.0
-3
650
B
131388
J100F8-4530-5
4.560
4.250
6.385
1.270
9.8
9.4
9.0
-3
652
B
131389
J100F8-4560-5
4.600
4.250
6.385
1.270
10.0
9.7
9.4
-3
661
B
131390
J100F8-4600-5
4.280
4.000
6.385
1.395
8.5
8.2
7.9
-3
620
131371
J100F8-4280-5
4.310
4.000
6.385
1.395
8.5
8.2
7.9
-3
635
118528
J100F8-4310-5
4.500
4.000
6.385
1.395
9.3
8.7
8.5
-3
667
106908
J100F8-4500-5
4.530
4.000
6.385
1.395
9.3
8.7
8.5
-3
694
131372
J100F8-4530-5
4.560
4.000
6.385
1.395
9.3
8.7
8.5
-3
702
131373
J100F8-4560-5
4.600
4.000
6.385
1.395
9.6
9.0
8.8
-3
702
L
131374
J100F8-4600-5
4.310
3.766
6.385
1.520
8.1
7.6
7.4
-3
643
131666
J100F8-4310-5
4.500
3.766
6.385
1.520
8.7
8.3
7.9
-3
684
106907
J100F8-4500-5
4.530
3.766
6.385
1.520
8.8
8.4
8.0
-3
700
131376
J100F8-4530-5
4.280
4.250
6.135
1.520
9.0
8.6
7.4
-3
630
131665
J100F8-4280-5
4.310
4.250
6.135
1.520
9.0
8.6
7.4
-3
643
131666
J100F8-4310-5
4.500
4.250
6.135
1.520
9.8
9.4
9.0
-3
684
106907
J100F8-4500-5
4.530
4.250
6.135
1.520
9.8
9.4
9.0
-3
700
131376
J100F8-4530-5
4.560
4.250
6.135
1.520
9.8
9.4
9.0
-3
703
131377
J100F8-4560-5
4.255
4.000
6.135
1.640
8.5
8.1
7.9
-3
663
106903
J100F8-4250-5
4.280
4.000
6.135
1.640
8.5
8.1
7.9
-3
653
106904
J100F8-4280-5
4.310
4.000
6.135
1.640
8.5
8.1
7.9
-3
668
106905
J100F8-4310-5
4.440
4.000
6.135
1.645
9.0
8.7
8.4
-3
673
106964
J100F8-4440-5
4.466
4.000
6.135
1.645
9.3
8.8
8.6
-3
697
124076
J100F8-4470-5
4.500
4.000
6.135
1.645
9.3
8.8
8.6
-3
708
106906
J100F8-4500-5
4.530
4.000
6.135
1.645
9.3
8.8
8.6
-3
715
110591
J100F8-4530-5
4.560
4.000
6.135
1.645
9.6
9.1
8.9
-3
747
131379
J100F8-4560-5
4.280
3.766
6.135
1.765
8.3
7.9
7.5
-3
-
170703
J100F8-4280-5
4.310
3.766
6.135
1.765
8.3
7.9
7.5
-3
-
170704
J100F8-4310-5
4.320
3.766
6.135
1.765
8.3
7.9
7.5
-3
-
L
170705
J100F8-4320-5

B=Oil Rail Support is Included. L=Indicates limited quantities available

| | |
| --- | --- |
| 131381 | $89.65 |
| 131382 | $89.65 |
| 131384 | $89.65 |
| 131385 | $89.65 |
| 131386 | $89.65 |
| 131387 | $89.65 |
| 131388 | $89.65 |
| 131389 | $89.65 |
| 131390 | $89.65 |
| 131371 | $84.15 |
| 118528 | $84.15 |
| 106908 | $84.15 |
| 131372 | $84.15 |
| 131373 | $84.15 |
| 131374 | $84.15 |
| 131666 | $84.15 |
| 106907 | $84.15 |
| 131376 | $84.15 |
| 131665 | $84.15 |
| 131666 | $84.15 |
| 106907 | $84.15 |
| 131376 | $84.15 |
| 131377 | $84.15 |
| 106903 | $84.15 |
| 106904 | $84.15 |
| 106905 | $84.15 |
| 106964 | $84.15 |
| 124076 | $84.15 |
| 106906 | $84.15 |
| 110591 | $84.15 |
| 131379 | $84.15 |
| 170703 | $84.15 |
| 170704 | $84.15 |
| 170705 | $84.15 |
HOME