J.E. Pistons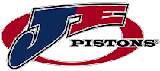 High Performance
Street Strip Race
RPM - RON'S PRECISION MACHINE, INC.
69 E. 580 N.
Santaquin, Utah 84655
1-801-754-5338 or Toll free 1-866-700-5877
e-mail
Order Form
Engine Rebuild Kit and Parts Online Catalog
Chevrolet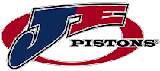 Big Block
427/454/502 Big Block Chevy Domed pistons

Top choice for Drag Race applications.
JE .990 x 2.930 H.D. wrist pins (150 grams).
Pin fitting and double spiral locks included.
Precision CNC machined ring grooves, accepts 1/16, 1/16, 3/16 rings.
C.H figured for 9.800 block height with -.020 deck (10.200 block, use +.400 longer than rod length listed).
Dome pistons listed will not work with Edelbrock head #6045, 6040, 6055 available as special order.
Call toll free to order at 1-866-700-5877 or e-mail or use the Order Form for questions and to check stock.
Prices are for one piston, pin, and locks (ea.)

Bore Size
Stroke
Rod
Length
Comp
Height
Compression Ratio
110cc 118cc 124cc
Dome
Vol.
Gram
Weight
Foot
Notes
Part
Number
$ Price
each
4.280
4.250
6.535
1.120
14.5
13.5
12.6
48
546
B
139843
95.15
4.310
4.250
6.535
1.120
14.7
13.7
12.8
48
542
B
139844
95.15
4.320
4.250
6.535
1.120
14.7
13.7
12.8
48
541
B,L
139845
95.15
4.350
4.250
6.535
1.120
15.0
14.0
13.0
48
557
B
139846
95.15
4.375
4.250
6.535
1.120
15.0
14.0
13.0
48
567
B
139847
95.15
4.500
4.250
6.535
1.120
15.0
14.0
13.0
43
606
B
139848
95.15
4.530
4.250
6.535
1.120
15.0
14.0
13.0
43
619
B
139849
95.15
4.560
4.250
6.535
1.120
15.0
14.0
13.0
43
621
B
139850
95.15
4.600
4.250
6.535
1.120
15.0
14.0
13.0
43
620
B
139851
95.15
4.280
4.000
6.535
1.245
14.1
13.0
12.2
50
573
B
111596
95.15
4.310
4.000
6.535
1.245
14.1
13.0
12.2
50
562
B
111597
95.15
4.320
4.000
6.535
1.245
14.1
13.0
12.2
50
569
B
111598
95.15
4.350
4.000
6.535
1.245
14.5
13.4
12.5
50
582
B
111599
95.15
4.375
4.000
6.535
1.245
14.5
13.4
12.5
50
598
B
111600
95.15
4.500
4.000
6.535
1.245
14.1
13.1
12.4
43
630
B
111601
95.15
4.530
4.000
6.535
1.245
14.1
13.1
12.4
43
640
B
111602
95.15
4.560
4.000
6.535
1.245
14.5
13.6
12.8
43
647
B
131447
95.15
4.600
4.000
6.535
1.245
14.5
13.6
12.8
43
667
B
131448
95.15
4.500
4.250
6.385
1.270
15.3
14.3
13.4
44
642
B
170714
95.15
4.530
4.250
6.385
1.270
15.3
14.3
13.4
44
648
B
170715
95.15
4.560
4.250
6.385
1.270
15.6
14.5
13.6
44
665
B
170716
95.15
4.600
4.250
6.385
1.270
15.6
14.5
13.6
44
672
B
170717
95.15
4.280
4.250
6.385
1.270
13.8
12.9
12.2
44
570
B
118520
95.15
4.310
4.250
6.385
1.270
13.8
12.9
12.2
44
565
B
118521
95.15
4.320
4.250
6.385
1.270
13.8
12.9
12.2
44
568
B
118522
95.15
4.350
4.250
6.385
1.270
14.2
13.3
12.5
44
574
B
118523
95.15
4.375
4.250
6.385
1.270
14.2
13.3
12.5
44
594
B
118524
95.15
4.500
4.250
6.385
1.270
13.8
13.0
12.3
37
623
B
118525
95.15
4.530
4.250
6.385
1.270
13.8
13.0
12.3
37
637
B,L
118526
95.15
4.560
4.250
6.385
1.270
14.4
13.5
12.8
37
623
B
131445
95.15
4.600
4.250
6.385
1.270
14.4
13.5
12.8
37
659
B
131446
95.15
4.280
4.000
6.385
1.395
12.4
11.6
10.9
39
585
B,L
111717
95.15
4.310
4.000
6.385
1.395
12.4
11.6
10.9
39
572
111718
89.65
4.320
4.000
6.385
1.395
12.4
11.6
10.9
39
588
L
111719
89.65
4.350
4.000
6.385
1.395
12.7
11.9
11.2
39
603
L
111720
89.65
4.375
4.000
6.385
1.395
12.7
11.9
11.2
39
614
111721
89.65
4.500
4.000
6.385
1.395
12.4
11.7
11.1
32
633
111722
89.65
4.530
4.000
6.385
1.395
12.4
11.7
11.1
32
632
L
111723
89.65
4.560
4.000
6.385
1.395
12.8
12.1
11.5
32
651
L
131443
89.65
4.600
4.000
6.385
1.395
12.8
12.1
11.5
32
654
L
131444
89.65
4.280
4.000
6.385
1.395
14.1
13.0
12.2
50
631
111589
89.65
4.310
4.000
6.385
1.395
14.1
13.0
12.2
50
599
111590
89.65
4.320
4.000
6.385
1.395
14.1
13.0
12.2
50
606
111591
89.65
4.350
4.000
6.385
1.395
14.5
13.5
12.7
50
613
111592
89.65
4.375
4.000
6.385
1.395
14.5
13.5
12.7
50
628
111593
89.65
4.500
4.000
6.385
1.395
14.1
13.1
12.4
43
644
111594
89.65
4.530
4.000
6.385
1.395
14.1
13.1
12.4
43
669
111595
89.65
4.560
4.000
6.385
1.395
14.5
13.6
12.7
43
675
131441
89.65
4.600
4.000
6.385
1.395
14.5
13.6
12.7
43
695
131442
89.65
4.280
4.250
6.135
1.520
13.8
12.5
12.2
44
576
L
111710
89.65
4.310
4.250
6.135
1.520
13.8
12.9
12.2
44
605
111711
89.65
4.320
4.250
6.135
1.520
13.8
12.9
12.2
44
610
111712
89.65
4.350
4.250
6.135
1.520
14.2
13.3
12.5
44
621
111713
89.65
4.375
4.250
6.135
1.520
14.2
13.3
12.5
44
635
111714
89.65
4.500
4.250
6.135
1.520
13.8
13.0
12.3
37
655
111715
89.65
4.530
4.250
6.135
1.520
13.8
13.0
12.3
37
677
111716
89.65
4.560
4.250
6.135
1.520
14.4
13.5
12.7
37
679
131439
89.65
4.600
4.250
6.135
1.520
14.4
13.5
12.7
37
680
131440
89.65
4.280
4.000
6.135
1.645
8.9
8.5
8.1
2
650
L,S
131661
89.65
4.310
4.000
6.135
1.645
8.9
8.5
8.1
2
679
L,S
131662
89.65
4.469
4.000
6.135
1.645
9.6
9.2
8.9
4
685
123189
89.65
4.500
4.000
6.135
1.645
10.0
9.6
9.2
9
706
101256
89.65
4.280
4.000
6.135
1.645
13.0
12.2
11.5
44
663
L
111703
89.65
4.310
4.000
6.135
1.645
13.0
12.2
11.5
44
622
111704
89.65
4.320
4.000
6.135
1.645
13.0
12.2
11.5
44
635
111705
89.65
4.350
4.000
6.135
1.645
13.5
12.7
11.9
44
647
111706
89.65
4.375
4.000
6.135
1.645
13.5
12.7
11.9
44
660
111707
89.65
4.500
4.000
6.135
1.645
13.2
12.3
11.6
37
671
111708
89.65
4.530
4.000
6.135
1.645
13.2
12.3
11.6
37
690
L
111709
89.65
4.560
4.000
6.135
1.645
13.4
12.5
11.9
37
680
L
131437
89.65
4.600
4.000
6.135
1.645
13.4
12.5
11.9
37
701
L
131438
89.65
4.280
4.000
6.135
1.645
14.0
13.0
12.2
50
641
111582
89.65
4.310
4.000
6.135
1.645
14.0
13.0
12.2
50
629
111583
89.65
4.320
4.000
6.135
1.645
14.0
13.0
12.2
50
642
111584
89.65
4.350
4.000
6.135
1.645
14.5
13.0
12.2
50
653
L
111585
89.65
4.375
4.000
6.135
1.645
14.5
13.5
12.7
50
670
111586
89.65
4.500
4.000
6.135
1.645
14.1
13.1
12.5
43
698
111587
89.65
4.280
3.760
6.135
1.765
14.0
13.0
12.1
54
685
131310
89.65
4.310
3.760
6.135
1.765
14.2
13.1
12.2
54
668
131311
89.65
4.350
3.760
6.135
1.765
14.4
13.3
12.4
54
692
13112
89.65

B=oil rail support included L=indicates limited quantities available S=indicates Solid Dome Design

HOME