Import & Domestic remanufactured Crankshaft Kits
RPM - RON'S PRECISION MACHINE, INC.
69 E. 580 N.
Santaquin, Utah 84655
1-801-754-5338 or Toll free 1-866-700-5877
e-mail
Engine Rebuild Kit and Parts Online Catalog
Don't forget to bookmark this site.
Call Toll Free to Order and Purchase Parts only at: 1-866-700-5877 (U.S. only)
Hours: 9:00 AM to 5:00 PM Monday - Friday mountain time (Utah)
Call toll free to purchase at: 1-866-700-5877 (U.S. only)
International orders (outside the U.S.) Click Here
Order Form
Also see Crankshaft Kits for other crankshaft kits for domestic and import engines. Please call for what you need or e-mail to check stock and prices.
Also check Topline crankshaft kits.
Hyundai, Saturn, Subaru Crankshaft kits
These are remanufactured crankshafts with matching main bearings and rod bearings and thrust washers (if the engine uses thrust washers).
Prices do not include shipping which is generally $36.80 to most places.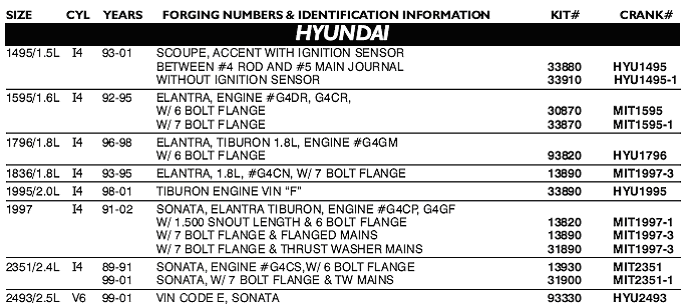 Part # Your cost $
33880 $318.93
33910 $318.93
30870 $309.57
93820 $373.00
13890 $353.57
33890 $354.35
13820 $339.57
13890 $353.57
13930 $309.57
31900 $352.04 (years 1999-05)
93330 $387.72
19520 $412.35 2006-10 2.4L Sonota, Tucson - Theta B engine (HYU2359)
Saturn

1.9L I4 91-92 Z1000883, SATURN SOHC or DOHC 12020 SAT1900 $348.06
1.9L I4 93-01 Z1000883, SATURN SOHC or DOHC 12030 SAT1900L $358.85
1.9L I4 99-01 Z1007570AA3 SATURN DOHC 11030 SAT1900L1 $358.85
Note: SAT00 & SAT00L are not interchangeable
2.2L I4 00-02 VIN 'F' SATURN DOHC 11460 SAT2200 $479.85


Part # Your cost $
91010 $410.87
91020 $285.13
91030 $300.44
91040 $300.44
91050 $370.03
91050 $370.03
91060 $380.98
91070 $378.81
91080 $445.16
91090 $445.16
HOME